Designed by Sony in the 1980's the Betacam format became the de-facto broadcast video format world-wide. It's derivatives Betacam SP (Superior Performance), Digital Betacam and Betacam SX are at the forefront of video technology. The small format Betacam tapes are identical in size to Betamax tapes and some can be used in Betamax machines, but it is at this point that the similarity ends.

Betacam is a high quality format based apon the component video standard. In this system a video signal is represented by three signals. One Luminance and two Chrominance. These signals are referred to as Y, U and V and are no more than a special way of encoding the Red, Green and Blue signals that make up all colour images. Unlike, it's predecessors such as the U-matic format, the Betacam format records all three signals independently so that there is minimal signal loss during the record/playback process. It is able to do this by using a process known as Compressed Time Division Multiplex (CTDM).

The signal carrying the colour information, U and V, is time compressed and recorded on to one video track while the luminance, or Y, signal is recorded onto a second track. The use of two separate tracks eliminates the cross colour and cross luminance effects inherent in composite recording. Both tracks are recorded using high frequency FM (frequency modulated) carriers. This allows for high bandwidth for the Luminance and Chrominance signals.

The format uses 1/2-inch tape which runs at the high speed of 101.5mms. To increase running times to beyond 90 minutes a large format tape cassette was introduced. All the studio machines are capable of accepting both size of cassette without a need for any adapter.

The format was designed for professional use and so advanced features such as Time Code and full editing functionality were built into the system from the start.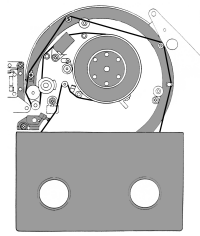 Tape wrap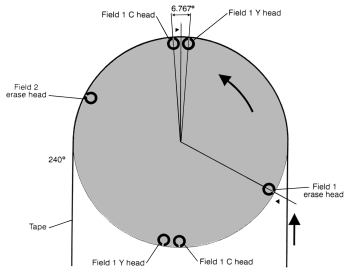 Betacam SP head layout